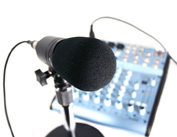 We are conducting a podcast where everyone can literally voice their support for Kareem.
If you wish to get included in this podcast (and we highly encourage you to!) please send us a brief MP3 file of you saying supportive things to Kareem and demanding his immediate release (respectfully!) from the Egyptian government.
This can be done in as many languages as possible – not necessarily English.
Please e-mail your file to editor@freekareem.org and spread the word on your own blog/websites in order for us to gather as many voices as possible to help increase awareness on Kareem's case.
Kareem has been in prison for over a year. Please don't forget him. Help now in any way that you can!
blog comments powered by

Disqus